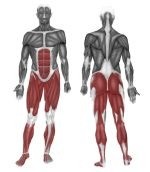 Product type: Strength training
Function: With machine SW 04-TREADLE-MACHINE:
development and strengthening of lower limb muscles, particularly quadriceps, calves and glutes. With machine SW 19-BENCH: exercise and development of upper limb muscles and chest.
Note: Maximum allowed weight of a user is 120 kg. The area of 2 meters from the user/machine must stay clear during the workout.
Safety instructions: Without attendance, kids with minimum height 140 cm are not allowed. Other than proper use is prohibited. The device is in compliance with the standard CSN EN 16630.