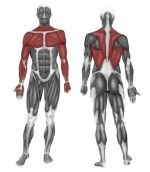 Product type: massage
Function: Back muscles and waist tension relief. Improvement of blood circulation and nervous system.
Note: Maximum allowed weight of a user is 120 kg. The area of 2 meters from the user or machine must stay clear during the workout. The device follows the standard CSN EN 16630.
Safety instructions: Exercise slowly and smoothly. Do not use the device if its surface is frosty, slippery, hot or if the device is visibly damaged. Risk of injury.