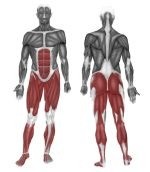 Product type: Exercise
Function: Training and relief of waist muscles, improvement of mobility/flexibility of lumbar area. Improve flexibility and body coordination.
Note: Maximum allowed weight of a user is 120 kg. The area of 2 meters from the user/machine must stay clear during the workout.
Safety instructions: Other than proper use is prohibited. The device follows the standard CSN EN 16630. Exercise slowly and smoothly. Do not use the device if its surface is frosty, slippery, hot or if the device is visibly damaged. Risk of injury.