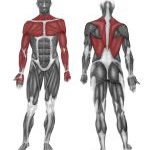 Product type: Street Workout
Function: Strengthening the muscles of the arms, shoulders and abdomen. It improves flexibility through stretching exercises and develops coordination. Suitable for calisthenics.
Note: The maximum user weight is 120 kg. The second person is forbidden to enter the distance of 2m from the user. The device may only be used unattended by persons over 14 years of age. Use other than those specified is prohibited.
Safety instructions: The device is in compliance with the standard CSN EN 16630.